The BHS DRAMA groups will present a 30 minute play at 2 and again at 4.   The title is The...
read more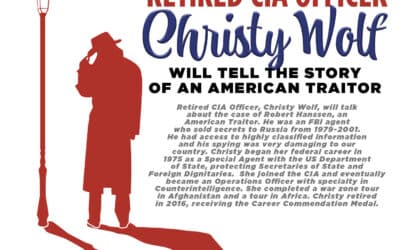 Christy Wolf, retired CIA officer, will tell the story of Robert Hanssen.   He was an American traitor who sold secrets to the Russians for almost 20 years.   Hanssen was an FBI agent who had access to highly classified documents, so his actions were very damaging to America's security.   BTW, Christy's mother grew up in Boonville!
Wednesday August 9th!
1:30 with light refreshments, $15
7:00 with heavy appetizers,  $25
Tickets are available at Miller's 5 & 10 and the museum!